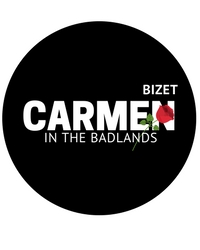 Opera in the Badlands : Carmen
When
Occurs on Saturday August 4 2018
Approximate running time: 3 hours
Venue
Performance Notes
×
Set in Seville during the 1800s, Carmen tells the tragic story of the eponymous gypsy and the soldier she convinces to let her escape prison. Bizet's most successful opera Carmen, with its exotic Spanish setting and sordid love triangle, introduced a style of realism in opera that changed the theatre forever, and remains just as potent and relevant today. Carmen is one of the most beloved and often produced operas in the world.
Don't forget to buy your discounted parking: $5 in advance - $10 at the gate. (Look under the event Parking Pass - Carmen in the Badlands)
Adults $69-$79
Senior $55-$65
Youth $25-$35
Children 6 and up are welcome to attend but due to the sensitive acoustics of our amphitheatre, we can't accommodate babies or children 5 or under.
A $4 service fee will be applied to each ticket